The so-called Industrial Revolution 4.0 is here and it is being accelerated by the COVID-19 Pandemic. For a business to thrive in this new economy, having a marketing automation agency can play a crucial part in driving success. In 2020, the global marketing automation market size is at over US$4 million according to Research and Markets. Projections report up to more than US$14 million by 2030 with a compound annual growth rate (CAGR) of 12.3 percent.
It's a far cry from what the marketing landscape used to be. Marketing technology started to emerge in the 1990s when the internet was in its early stages. Email messaging was in its infancy and technology was still figuring out how to fit computers in their pockets. Marketing automation didn't enter the scene until the early 2000s.  But it is only today that it's getting more attention from businesses. Here are some solutions marketing automation agencies can offer this 2022.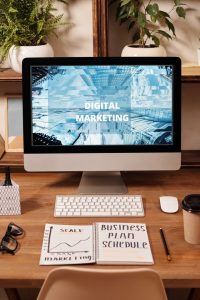 Email automation
Harvard Business Review reported in 2019 that "an average professional spends 28 percent of the workday reading and answering emails". This number has grown significantly during the pandemic causing "email overload". And for marketers, sending and reading emails to clients can be a daunting task. Mass emails can annoy potential customers while sending personalized messages can be too taxing. A marketing automation agency can offer an automated solution to this enabling marketers to do personalized and targeted emails with ease.
Chatbots
Messaging apps are considered to be one of the most crucial tools in digital marketing. This enables direct contact to clients or customers. Facebook Messenger alone has 1.3 billion monthly users. For social media managers, the downside of this tool is handling the volume of messages. It is difficult to ensure quality conversations when there are too many of them. A solution to this is to have an automation agency enable chatbots that can be programmed through machine learning and artificial intelligence. This way conversations remain more personalized despite the volume.
Personalized customer journey
Mass advertising had its glory days before the turn of the century. The so-called "tri-media approach" of TV, radio, and print is not the cornerstone of modern marketing anymore. In this digital age, marketing is now more targeted and individualized. Various marketing reports have shown that lead conversions are higher when the customer journey is more personalized. A marketing automation agency is capable of creating such solution for any type of business.
Automated Marketing Solutions You should Watch Out for this 2022

,